Joined

Mar 17, 2005
Location
http://en.wikipedia.org/wiki/GM_Atlas_engine#LLR
A good source of info to start with.
But to summarize:
LL8 - Vortec 4200 I6
L52 - Vortec 3500 I5 *
LLR - Vortec 3700 I5
LK5 - Vortec 2800 I4
LLV - Vortec 2900 I4
As part of my buggy research I'm looking at smaller engines that will work for me. I may or may not use any of the engines, but still figured I may as well dump it out here for others as I find anything interesting.. The coolest part and this holds true for the LSx family is the sharing and interchangeability of parts across the various sizes.
In passing I stumbled across the 3500 engine and first thought it would be too small for what I'm doing. Knowing how frustrating a small engine can be with big tires. BUT after looking at some numbers, it appears to be almost inline with my current 1972 307 chevy engine that makes ~170hp (best guess w/ TBI) at 4500rpm. This 3500 motor is in that area but continues to rev and make power up to 6k rpm.
I'm happy with my current motor and its doing what I need it to do. I initially was going to substitute in a 4.3L V6 as they are also similer in HP/Tq just in a shorter package.. BUT these new motors with the DOHC and better engine controls seem to be able to extract similer power from a smaller package..
Again I'm not saying it is or it isn't at this point simply passing on the stuff i've found..
Ok some GM BS.. The Vortec 3500 I-5 is targeted to produce 215 horsepower and 225 lb-ft of torque.
(see pic) found here (
http://www.pickuptrucks.com/html/news/I4I5.html
) Also on the page is some 2.4L info, also not a bad small motor..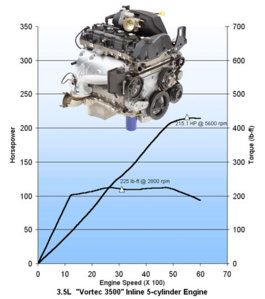 My thinking is that I can have it more easily set ~4-5" back into the passenger area while still providing adequate room for feet and pedals.
Next to find is some size/specs. on it..
Feel free to add specs if anyone comes across anything to add.