Joined

Apr 1, 2013
Location
Hey everyone. I picked up a 1960 Studebaker Champ 3/4 ton from the Bay of E for $450 as a base for my girls daily. The floors are rusted out, but the rest of the truck is pretty solid, it has the original driveline, and factory D60 rear (4.27 gears).
The plans (for the moment):
- FSJ non-disconnect D44 front - may regear to match rear
- Grand Wagoneer 5 leaves front springs (960lb springs) or 6 leaves (1030lb springs)
- SBC of some variety
- 700R4 w/ floor mounted shifter- Sadly she doesn't drive stick and not interested in learning
- NP241 - SYE conversion
- 63" chevy springs for the rear
- Convert rear to 30/35 spline - may regear and gear driven limited slip
- New brake system - moving master cylinder to firewall, rear disc conversion, and all replace all the shot lines.
- New electrical - Just gonna use a universal GM style harness
- New column - for tilt and move ignition and wiper controls off dash
- New fuel system - move tank from cab - new fuel lines
- Weatherstripping
- Modern seats
- Rubber floor
- Figure out steering
- Aftermarket AC
- Fab flat bed with stake sides
I think that covers the basic idea I have in my head.
Here's Stew when I picked him up Saturday.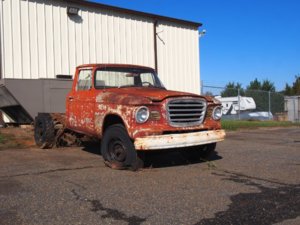 Last edited: