Joined

Mar 1, 2007
Location
This project is named for my grandpa John, but people call him 'Big John' like the Jimmy Dean song. This will not be a restoration, but more of a freshening up to use as a farm/hunting truck.
The weekend before Thanksgiving 2018 I talked my grandpa into "selling" me his '71 C30 and I wanted somewhere to document getting it running again since it will be a slow & cheap build and I'm hoping this keeps me from forgetting things. I put "selling" in quotes because I still haven't seen the title or the keys & every time I bring it up he tells me I don't have the time, I don't know what I'm getting into & I'm making a mistake. I "bought" it for a few reasons:
*been in the family for ~30 years & only "cost" me $300
*has hydraulics that I'm hoping can raise/lower an ag drill
*give me the inspiration/motivation to work on my crawler again
Determined to be just as stubborn about it as my grandpa is, I'm going to start working on it with the hopes he caves & signs over the title. If he doesn't, at least he'll be able to use it around his place. I'd like to get it safe & reliable before getting the title & putting it on the road; after that I'll worry about doubling the fuel mileage (currently 7mpg), getting all the gauges working & updating things.
Plan is to build this thing in phases. Phase 1 is clean, disassemble & inspect. I'm not too sure on its history, but I've got to start somewhere! I've been told its got a rebuilt 4 bolt main 350 V8 with a mild cam, but the last time it ran (~9 years ago?) it didn't sound mild to me. The starter was rebuilt the last time it ran & I remember the brake lights didn't work, but when you pushed the brake pedal all 4 turn signals lit up. Its got a 4 speed manual transmission (sm465 or sm420?) that seems to go in each gear with a PTO driven hydraulic pump that operates the bed. I've also been told the rear axle is geared 5.XX:1. I know it doesn't have a battery, the stock fuel tank leaked and was replaced with a removable boat fuel tank & it looks like its been used as a trash can while my grandpa is mowing. I moved it from where its been sitting for almost a decade to tinker on it a bit during weekends since I go home to hunt anyway. First thing will be to power wash it so I can inspect everything. All the cab corners feel solid, but the rocker panels have some rust at the pinch seam, the front of the fenders are rusted & I found a small hole in the floor board. I plan on cutting out all the cancer & priming at a minimum to stop it from getting worse, but I'll be leaving the patina. All the fluids will need to be changed and the brakes rebuilt; as well as new plugs, wires, hoses & belts.
Phase 2 will be to drive it around & use it on grandpa's property until I can get the title. Phase 3 will be to change out the transmission for one with overdrive (as long as I can find one with the same PTO), add rear wet lines for ag drill connection, reupholster the seat, new weather stripping to seal up the cab/windows, change the bed up a bit, upgrade the lights, change out rear axle (better gear ratio, limited slip/lunchbox locker & disc brakes).
How it sat before I moved it this weekend: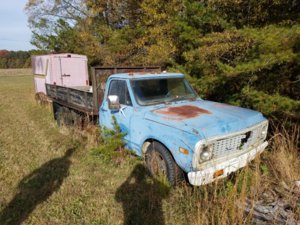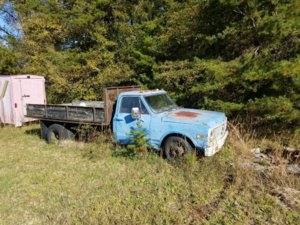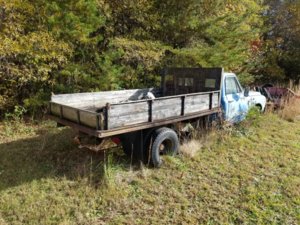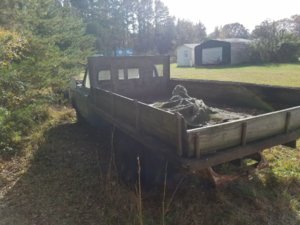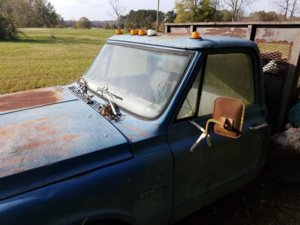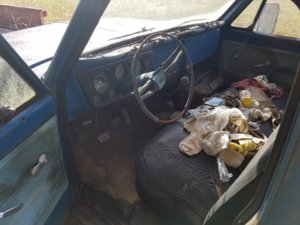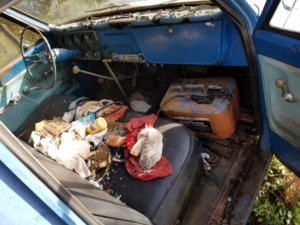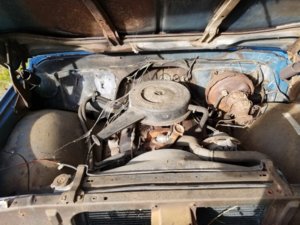 Last edited: